What is Ruck?
RUCK•ING [VERB] // Walking with a weighted rucksack (aka backpack). It implies action, energy, and purpose. Rucking requires strength, endurance, and character — and builds it, too. (www.goruck.com)
BGFA hosts Ruck once a year aimed at fund raising, team building, social gathering, networking, and community development.  Not only do BGFA members get to know each other better on the Ruck ground, but they get to know their community and their sponsors better.  The Ruck is certainly not only for BGFA members, it is for everyone! Anyone can get a team together and register for the event every year.
Ruck leaders, known as a Cadre, will design and test an obstacle course, its a fitness and growth event.  It is designed to challenge teams and build confidence and comradery among its members. The Cadres, on the day of the Ruck, will lead their teams through the course and encourage growth and perseverance along the way. The course isn't designed to be a walk in the park exactly, but will challenge strength and endurance.  Ruck team members will supply their own weighted backpack (or better yet a rucksack) weighing 10 pounds up to, but not limited to, 30 pounds.  Any weight is accepted for the Ruck.  Don't expect to be as clean as you were when you started when you reach the finish line.  Often times Cadres lead their teams into wet, dirty, muddy environments while carrying additional loads of stones, bricks, or logs to push the limits of their team members.
(Ruck 2021 Flyer)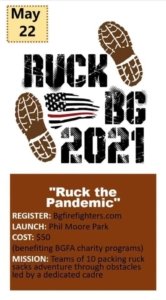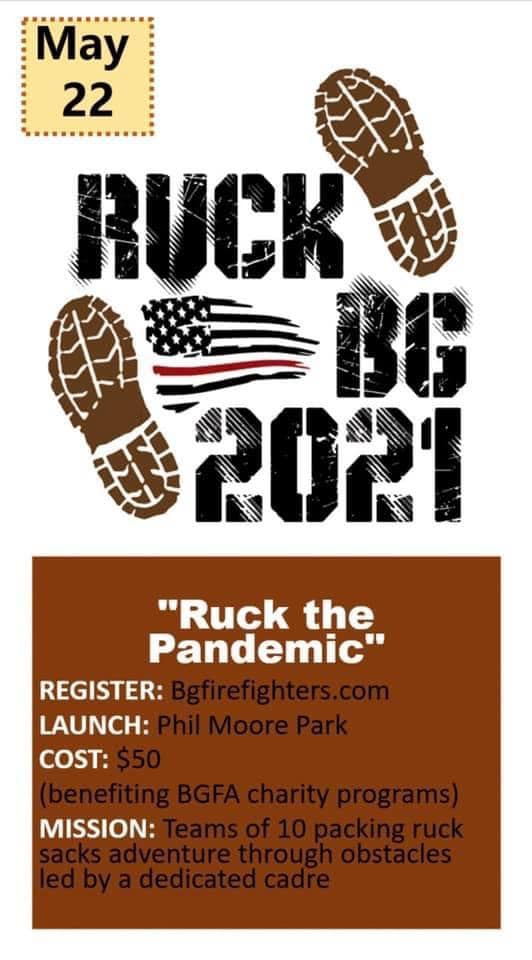 Fund Raising
The Ruck, held on May 22, 2021 was a great success.  The BGFA raised $5,467.00!  The funds raised will help pay for toys, clothes, and needed gifts for children at Christmas time at BGFA's "Shop with a Firefighter" event.  BGFA would like to thank everyone who participated and help organize the 2021 Ruck as well as our great BGFA sponsors!